Young people's lack of access to mental health services, the stigma and distance between AI machines and human care.
Harold Koplewicz's standpoint allows little room for ambiguity. He affirms, "the period around 2011 marked the explosion of the iPhone, and by 2014, a majority of teenagers were in possession of one. As significant time is dedicated to social networks, gaming, and streaming, there is a noticeable reduction in sleep and real-life interactions". Koplewicz, an influential American child psychiatrist and founding president of the nonprofit Child Mind Institute, shared these insights during his presence at 2023 SNF Nostos in Athens this June.
"From 2014 to 2018, there was a distressing surge in suicides among individuals aged 10 to 24 in the United States, soaring from 4.600 to 6.600 cases – reflecting a staggering 57% escalation", Koplewicz tells iMEdD. We asked the professor whether mental health services are presently accessible to children and young individuals in the US. "The foremost obstacles continue to be the stigma associated with mental health issues and a lack of awareness. And then there's also the issue of financial coverage through insurance, along with the shortage of mental health professionals —be it child psychiatrists or even pediatricians—who truly grasp the importance of treatment based on solid scientific evidence", he responded.
Across thousands of miles in Greece, the statistics paint a similar reality. Last winter, 40 schools in four major cities in Greece –Athens, Thessaloniki, Alexandroupolis, and Ioannina– collaborated in an unconventional way. The Child and Adolescent Mental Health Initiative (CAMHI), a partnership between the Child Mind Institute and a network of Greek mental health professionals in the public sector, coordinated adolescent and teacher advisory groups within the framework of the Stavros Niarchos Foundation's (SNF) International Health Initiative.
"Numerous children participated in the mental health initiative, of which 1.166 responded to questionnaires handed out to them. From this extensive participation, significant insights are gleaned", explains Moschos, who served as the Ombudsman for Children's Rights in Greece for 15 years and presently holds the role of Coordinator for CAMHI's Youth Engagement Scheme.
"To start with, a significant 65% of teenagers indicate that the current functioning of schools contributes to an escalation in anxiety and stress levels among students. One out of every two teenagers confesses to not knowing where to seek assistance for mental health issues. 46.8% admit not feeling comfortable in discussing these matters with teachers. Lastly, one in five adolescents knows a peer who either isolates themselves or have resorted to self-harm".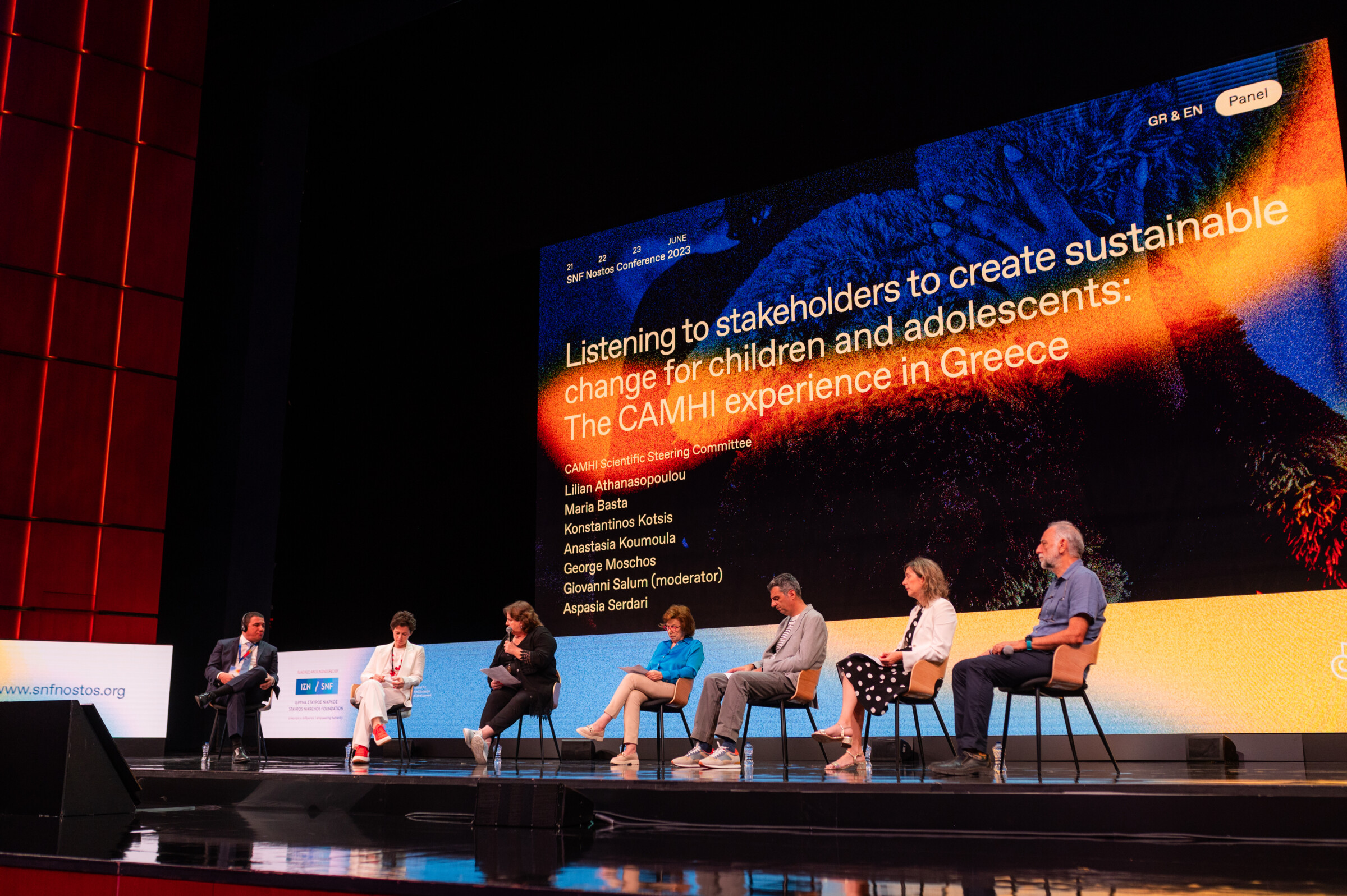 Stigma and access to mental health
George Moschos highlights two crucial concerns. Despite the existence of mental health centers in numerous municipalities across the country, many young individuals remain uninformed about them or hesitate to approach them readily. During his tenure as the Children's Ombudsman, he managed to address this issue without necessarily involving the children's parents. "80% of students are advocating for schools to take steps in this direction, and progress has been made. Greek schools are now visited by psychologists. However, for a student to reach out to the school psychologist, it's necessary for the parents to be informed each time, which acts as a deterrent", elaborates George Moschos. "Not everything needs to involve parents".
Aspasia Serdari, Associate Professor of Child and Adolescent Psychiatry at the Democritus University of Thrace and member of SNF's Children and Adolescents Mental Health Initiative, tells iMEdD that, in recent years, children have directly or indirectly faced the consequences of the global economic crisis, immigration, conflicts, climate change and other stressful events. "Therefore, there was a particular scientific interest and practical necessity for conducting a study addressing the foremost concerns pertaining to the mental well-being of children and adolescents in Greece", Serdari explains.
The objective of the study is to formulate a community map with current data specific to our country. This map will portray the existing state of services and the elements that either enable or impede the delivery of care, as she explains. The initial phase of the survey (2022-2023) included 1.756 parents and caregivers, 1.201 children and adolescents, 404 educators, and 475 healthcare professionals. These individuals either responded to questionnaires or participated in 14 focus groups. They focused on topics such as stigma and obstacles in accessing services, and the preliminary findings of the study yielded insightful revelations:
The primary mental health conditions prevalent among young people include attention deficit/hyperactivity disorder, anxiety, disruptive behavior, depression, and bullying. Overwhelmingly, teachers express the lack of training and assistance needed to recognize and address the mental health challenges their students face within the school environment. While parents acknowledge societal stigma as an obstacle in Greek society, they often fail to perceive their own stigmatizing views towards mental health concerns. Lastly, the study reveals that one out of five health professionals surveyed engage in the routine assessment of suspected cases of child abuse and neglect as part of their daily practices.
Approximately one-third of the disease burden in Greece stems from mental disorders in children. 95% of cases can be categorized into three primary areas: anxiety disorders, depressive disorders, and behavioral disorders.

Giovanni Salum
"Identifying issues early on and promptly intervening to tackle them has the potential to result in children experiencing normal psycho-emotional development and fewer instances of mental disorders. However, numerous challenges must be addressed in practice", Serdari tells us. "The stigma surrounding mental illness and the availability of services are undoubtedly factors that necessitate consideration when designing interventions and shaping social policies", she notes.
Giovanni Salum, an Associate Professor of Psychiatry at the Universidade Federal do Rio Grande do Sul, Brazil, and the program director of the Child and Adolescent Mental Health Initiative, was also present in Athens for the 2023 SNF Nostos Conference. He serves as the coordinator of the study focused on the state of health services and the accessibility young people have to these services. "Approximately one-third of the disease burden in Greece stems from mental disorders in children. 95% of cases can be categorized into three primary areas: anxiety disorders, depressive disorders, and behavioral disorders", Giovanni Salum tells iMEdD.
He isn't the first to emphasize the concern surrounding young people's accessibility to mental health services and practitioners. "Access varies based on location and geographical area. Some regions have extremely restricted availability, while others exhibit a slightly better situation", he observes. "Enhancing the public sector's funding and investing more is crucial to adequately address the requirements in every city. But I'm afraid that mental health professionals and parents alike need to be more educated on the matter".
Salum addresses the issue of stigma –a concern that Moschos witnessed firsthand in the schools of the four Greek cities upon observing that children were hesitant to approach psychologists. "Frequently, individuals refrain from seeking assistance due to feelings of shame. This pervasive stigma continues to be a significant taboo. The reluctance to seek help for mental health matters often stems from skepticism about the effectiveness of such interventions", Salum notes.
Earlier that morning, at the 2023 SNF Nostos Conference, a panel featuring mental health professionals from four Greek cities unfolded. Lillian Athanasopoulou, a child and adolescent psychiatrist at Papanikolaou Hospital in Thessaloniki, shared two revealing statistics:four out of ten parents are aware that their child needs specialist help, yet only one out of ten children manage to navigate their way to a mental health service.
The key factor determining accessibility is the structure of the healthcare system in each country, Greece included, as explained by Savvy Brar, a statistical analyst at UNICEF based in New York, during her conversation with iMEdD. "Frequently, mental health services tend to be centered around tertiary care. So we are working towards finding a solution to incorporate mental health care into primary healthcare, making it more attainable for those in need", she remarks while sharing her insights during the conference discussions.
The structure of national health systems frequently results in incomplete statistics – even when they reach UNICEF. "Our understanding of adolescent mental health is still limited. What we do know is that anxiety and depression contribute to 40% to 50% of all mental disorders", Brar points out. The landscape is even blurrier in Greece. "We lack adequate statistics", the UNICEF representative concedes to iMEdD.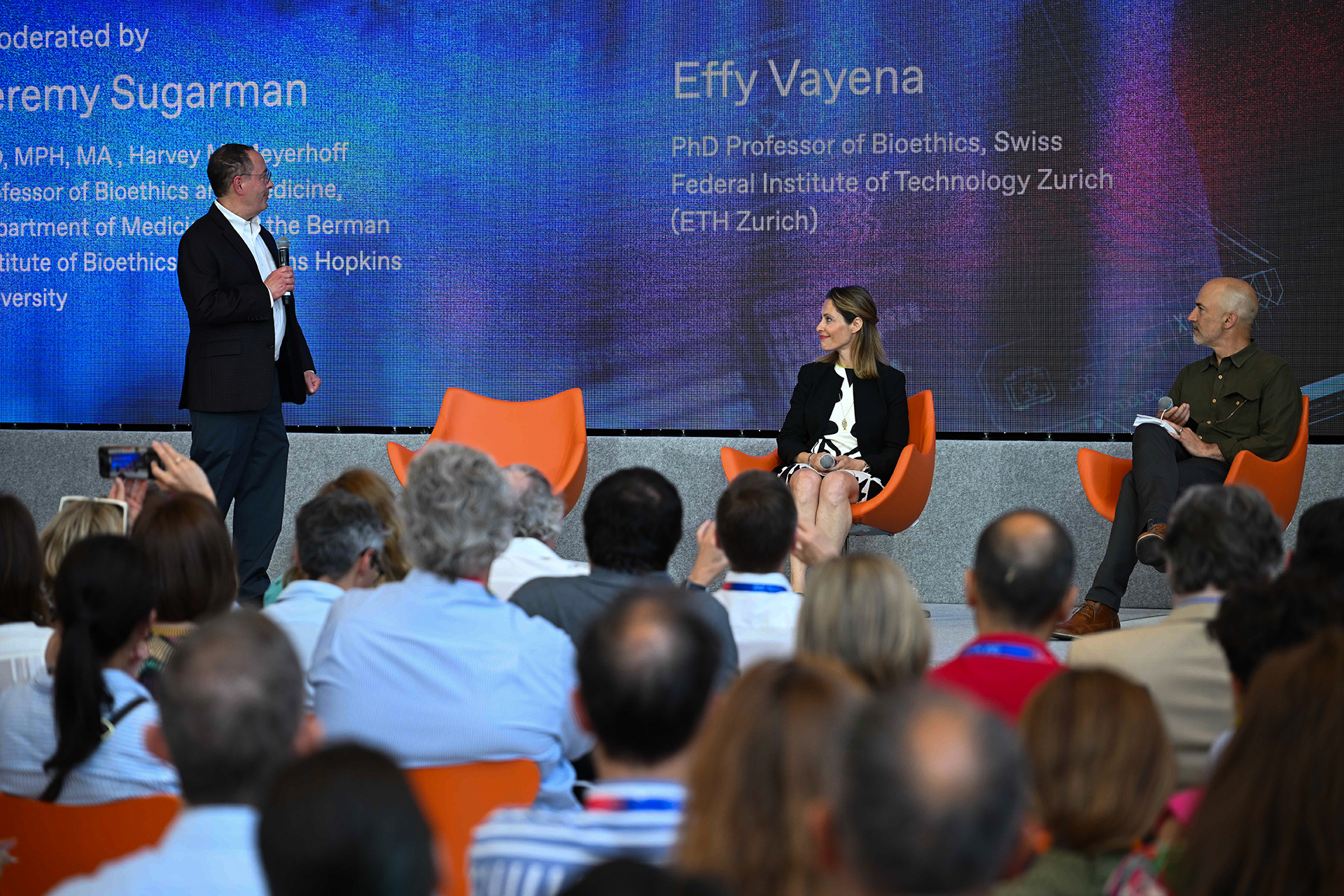 Artificial Intelligence
The ongoing discourse regarding the mental well-being of young people and their ability to access mental health services consistently revolves around a key phrase: the progress of technology. In reality, this discussion seems to extend far beyond the initial worry expressed at the outset of the conference by psychiatrist Koplewicz, which centered on the usage of smartphones among children and teenagers.
Michelle Miller is the Director of Mental Health Programs at the National Children's Alliance (NCA), an organization located in Washington, DC. Miller clarifies, "In the aftermath of the pandemic, children are displaying symptoms to a significantly greater extent. Naturally, cyberbullying is a substantial concern. I believe this is a challenge on a worldwide scale. Moreover, providing children with access to online information isn't always beneficial. Undoubtedly, technology can impact various behaviors tied to mental health".
Celina de Sola's talk during the 2023 SNF Nostos Conference bore a provocative title: "I told ChatGPT I'm lonely". Hailing from El Salvador, de Sola holds the positions of co-founder and President at Glasswing International, an organization dedicated to uncovering the fundamental origins and outcomes of poverty and violence across 12 distinct countries through initiatives related to education and mental health. So what did ChatGPT reply?
"I don't think you know my thoughts on this question", de Sola tells iMEdD. "In my opinion, machines can play a supplementary role in the realm of mental health, but they can't replace the connection and care that a human being can offer. Scientific research has also demonstrated that this human connection and caring are crucial for healing and effectively dealing with challenges", she points out. "So, the way I see it, Technology and AI can amplify our ability to address mental health issues, but not replace the human element".
During an earlier part of her speech, Celina de Sola had mentioned: "You know, we still exist in a world where many people don't have access to the internet, or to technology. But almost everyone has the opportunity to connect with another human being who can offer support for mental health in some way. Because, when it comes down to it, our most valuable resource is each other". She tells iMEdD and adds, "Let's consider how we can use technology to complement that".
Machines can play a supplementary role in the realm of mental health, but they can't replace the connection and care that a human being can offer.

Celina de Sola
Efi Vagena serves as a Professor of Bioethics at the Swiss Federal Institute of Technology Zürich. She also participated at SNF Nostos in Athens last June. The panel she took part in focused on the question of whether chatbots and telemedicine can effectively enhance access to healthcare while maintaining safety. There was a unanimous consensus that significant opportunities exist, yet at the same time, concerns were raised regarding issues of security, privacy, and effectiveness.
"Clarifications are necessary concerning the extent to which such applications have undergone testing and are considered effective", Vagena informed iMEdD several days later, after her return to Switzerland. "It's akin to the pharmaceutical realm", she remarked, alluding to the extensive process from drug formulation to market introduction, during which data is amassed and assessed by independent bodies.
"The spectrum of mental health solutions is vast, encompassing everything from wellness and meditation applications to chatbots designed for discussing symptoms of depression. Consider also apps like 'Replika: My AI Friend', where users create an avatar and establish a pseudo 'relationship' with the machine. These options are immensely popular among young individuals, making access highly convenient. However, a perpetual conflict exists between digital technology and mental well-being", Vagena explains. The ensuing question revolves around which among these technological products have undergone thorough examination and who has conducted the research.
The problem is not a novel one in Western Europe. Within the renowned British National Health Service (NHS), steps have been taken to establish a digital library exclusively for applications that undergo thorough review and approval by services within the same system. Going a step further, Germany has enacted a policy where citizens are limited to using sanctioned applications; any other choices lead to costs not being covered by insurance.
"Personal data and accountability are crucial concerns", observes Vagena from the Federal Institute of Technology in Zurich. "Given that these involve health-related products, the divulgence of personal medical information is a critical aspect. The question arises: where are these details registered, and who holds the authority to process them?".
"Ultimately, is this a journey that spans from Freud to ChatGPT?" we asked. "Let's avoid vilifying technology and, by extension, the immediate access that younger people have to mental health services, even via their mobile screens", Vagena emphasizes. "What the situation calls for are well-defined regulations and a system of accountability".