Working steps to developing the Lab's website, designed to meet the needs of prospective users.
The iMEdD Lab website was scheduled to launch in mid-March 2019. However, due to the outbreak of the COVID-19 pandemic, the iMEdD Lab decided to make the development of the application "COVID-19: The spread of the disease in Greece and around the world" its top priority, along with the collection of epidemiological data on Greece and the subsequent compilation of complete, machine-readable datasets. The following work process regarding the design of the iMEdD Lab website took place between October 2019 and November of the same year.
"Data science" started out as a specialization area but a branching out in sciences seems to be taking place nowadays. "Data journalism", in essence, is "data science" applied in journalism.

focus group member
To build the iMEdD Lab website, we followed the so-called "user-centered design" process, which places potential users at the center of web development, in order to make websites highly functional and useful to them.
During the preparatory and highly important stage of strategic planning, the mission and goal of iMEdD's Lab were defined: to develop a website with primary content, designed to host interactive journalistic research and data analysis projects, to foster innovative thinking, give voice to people who are redefining the media landscape and introduce new forms and tools for material production, supporting every journalist or researcher who uses the website – with the aim of adopting and promoting the modern journalistic paradigm.
The target user groups and their specific characteristics were listed next: as one would expect, the primary target audience is the journalistic community itself, including professionals and students in the field, who are interested in modern techniques, good research practices, documentation and narration.
A secondary target audience is the wider research community, including any member interested in applying and incorporating timeless research practices and aspects of computer science and technology in journalistic production.
Research and analysis of user requirements
Journalistic data content and digital tools related to this topic are needed to facilitate users in reading data correctly without being misled.

focus group member
Statistics is key in data journalism. Among the must-have skills for a journalist is familiarity with basic statistical principles: in other words, journalists need to know how to interpret statistics and how to select a representative sample, to be aware of all potential sources of bias, and to be familiar with estimation and prediction techniques, as well as their limitations.

focus group member
In order to work out the profile, the specific characteristics, the needs and expectations of potential users of the site in terms of its content and functionality, a quantitative and qualitative research of user requirements was designed and carried out.
With regard to the quantitative research method applied, data was collected through two, largely similar, closed-ended questionnaires, which were distributed electronically and were addressed, on the one hand, to the journalistic community and, on the other, to the wider research and scientific community.
More specifically, the two questionnaires included questions concerning:
the demographic characteristics of the respondents
their professional experience
degree of familiarity with the use of computers and the Internet (in the case of members of the journalistic community), and experience in working with journalists (in the case of members of the wider research community)
the skills considered necessary for journalists today
respondents' knowledge or understanding of data journalism
desired content for the iMEdD Lab website
expected website functionality/features
Data collection based on the questionnaire addressed to the journalistic community took place from October 3, 2019 to November 21, 2019. The questionnaire* was filled by 260 respondents (60.1% women, 39.5% men, 0.4% non-binary persons) who:
belong to all age groups (35-44 = 33.7%, 25-34 = 27.5%, 45-54 = 20.2%, 18-24 = 10.1%, 55 and above = 8, 5%)
reside in Attica (66%) and Central Macedonia (21%) – 4% of the respondents live outside of Greece and the remaining ones are dispersed in various Regions across the country
are, mainly, holders of a bachelor's degree (AEI/Former ATEI) (34.1%) or a master's degree (31.4%) –15.5% of the respondents are graduates of Vocational Training Institutes (IEK) or other unaccredited colleges of journalism, 5.4% of them are high school (Lyceum) graduates, 4,3% are PhD candidates and the remaining ones are undergraduate or postgraduate students
are mainly active journalists (57.4%), part-time journalists (17.4%), students (10.9%) or unemployed journalists (8.5%)
Data collection based on the questionnaire addressed to the wider research community took place from October 8, 2019 to November 26, 2019. The questionnaire * was filled by 40 respondents (29 men, 11 women), who:
mainly belong to the age groups 35-44 (19 participants) and 25-34 (12 participants)
mainly reside in Attica (36 participants)
hold a bachelor's/master's degree (27 participants) or a doctorate degree (13 participants)
are mainly employed in research centers/institutes (29 participants)
have never – or hardly ever – collaborated with journalists (29 participants) or have worked several/many times with journalists (8 participants) – three people stated they work with journalists on a regular basis.
Research results in terms of content
| How interested would you be to see each of the following? | Answered Very/Extremely interested (%) |
| --- | --- |
| Open databases, freely available to everyone | 91 |
| Case studies with journalists explaining how they investigated a story | 89 |
| New ideas, people and best practices from the international Media industry | 88 |
| Εργαλεία και τεχνικές για την ανάλυση και οπτικοποίηση δεδομένων | 87 |
| Interactive stories | 86 |
| Articles explaining how to process a database. | 86 |
| Web Applications | 85 |
| Data analyses | 84 |
| Video stories | 82 |
| Photo stories | 79 |
| Methodologies for a data-driven investigation | 77 |
| Podcasts | 66 |
Research results in terms of functionality
| How interested would you be in each of the following functionalities? | Answered Very/Extremely interested (%) |
| --- | --- |
| Download graphs/images | 82 |
| Embedding graphs/images | 80 |
| Download data | 74 |
| Preview of databases | 68 |
| Embedding a complete story | 65 |
Tools, techniques and methodology are all part of a continuum, meaning that boundaries between them are not clear-cut. I would expect to encounter them in cases studies.

focus group member
Data pertaining to the Greek community is missing.

focus group member
Alongside investigating user requirements through questionnaires, we also conducted qualitative research: in particular, on October 21, 2019, a focus group was set up, comprised of six members of the academic community of different universities in the country. Participants are specialized in various fields, ranging from journalism and digital media to visual culture, statistics and programming. The team focused on iMEdD Lab's web content and concluded that the main content priorities should be:
to include open, freely available data which will either be published or highlighted by iMEdD Lab after relevant research, review and use
to publish primary source-based topics and case studies which are based on data journalism and, thus, help promote it
to list the methodologies or tools used to produce all of the above, thus facilitating the journalist's work in general
to include material intended to advance knowledge in statistics and help to ease the understanding of basic statistics concepts
After collecting and analyzing the research data, we moved on to the design phase and subsequently wrote the website's use cases, mainly oriented towards content organization and website functionality.
Design and development
Within the context of information architecture (i.e. organization of content and labelling of the final menu), we followed the method of online card sorting: using a ready-made tool – one of the many digitally available to this end – we labelled index cards with names of potential thematic categories and sub-categories. We then asked potential users to sort through and name them, in a way that seemed more logical to them. The process was carried out by 24 media professionals between November 28, 2019 and December 30, 2019 and resulted in the sitemap and current menu featured on the website, which is based on category groupings formulated on user responses.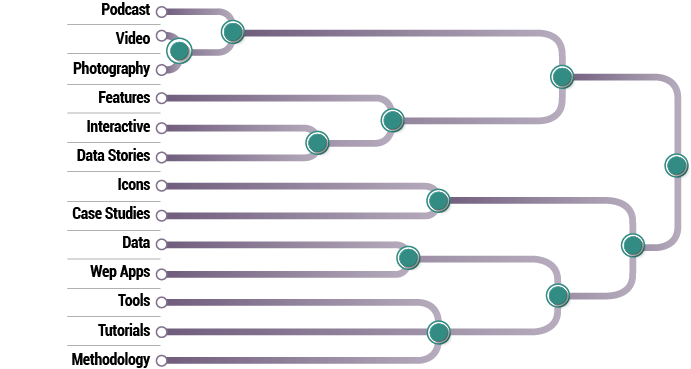 At the same time, a list of different types of potential content (long-form vs short-form text/content, multimedia content, etc.) was compiled to determine the format of the various internal pages and the individual metadata they carry.
In terms of visual identity, the minimal aesthetic of iMEdD.org served as an inspiration and the working group was guided by best practices for clarity and ease of reading, as well as the principles of "information design", including clear hierarchy of information and consistency in the design and use of functional elements. The site was designed with a typographic scale and fonts belonging to the Roboto and Noto typeface families were used, seeing as they are compatible with multiple languages and they are considered to be easy-to-read, especially when used for textual content.
The overall design resulted in functional, interactive prototyping, which was tested for ease of use before the website was developed.
Gutenberg, the new WordPress editor, was used for the implementation of the website, which allowed us to create a series of independent, standalone and reusable blocks that can be combined to create each post, depending on individual needs. This approach has a number of advantages, including the gradual building of a large library of features.
Accessibility, evaluation and optimizations
After performing basic web content accessibility evaluations based on the World Wide Web Consortium (W3C) Web Accessibility Initiative (WAI), the web page was found to meet Level A success criteria, but we strive for continuous improvement.
At the same time, a website evaluation based on the System Usability Scale (SUS) and regarding usability is planned to be conducted by users, which will in turn lead to further improvements.
Project Management/Users' Requirements Analysis: Kelly Kiki, Thanasis Troboukis

Website design: Christina Dalla

Website development: Giorgos Sarigiannidis


Translation: Anatoli Stavroulopoulou
*Attention: Hyperlinks to questionnaires are provided only for the purpose of updating and sharing their exact content. Any newly submitted answers will not be taken into account as the survey has been completed.
Do you have any comments or ideas for the iMEdD Lab website? Please do not hesitate to share your thoughts with us at [email protected]